EDIT MAIN
School Counseling
My name is Melody Allison, I am a 2004 graduate of Wellsville High School. I have an open door policy here so please feel free to contact me with any questions or concerns regarding personal/social, academic and career assistance. If I am out of the office, please leave a message or email me and I will get back to you upon my return. I am looking forward to a great school year! Go Tigers!
---
Parents,
If you need to get a hold of me, the quickest way to reach me is though email.
Thank you,
Miss Allison
---
Students,
If you have not yet turned in your schedule request sheets, please email me ASAP!
---
College Credit Plus: Deadline to Apply April 1st 2020
Any student wishing to participate in College Credit Plus:
1. Sign up through Google Form
2. Then you must fill out a letter of intent Letter of Intent and apply to the college of your choice.
***If you are planning to go to Kent State East Liverpool, please go online and apply under Kent CCP Application . (Make sure you do not fill out an application to be a regular Undergraduate student)
Term to apply: Fall 2020
A video was emailed out to students showing exactly how to apply. Any questions, email Miss Allison.
Make sure to fill out the paper application and turn it in to Miss Allison
****If you wish to go to Eastern Gateway, please go online and apply here: EGCC CCP Application
School Code: 365400
Term to apply: Fall 2020.
End Date: 5/30/20XX (Grad year)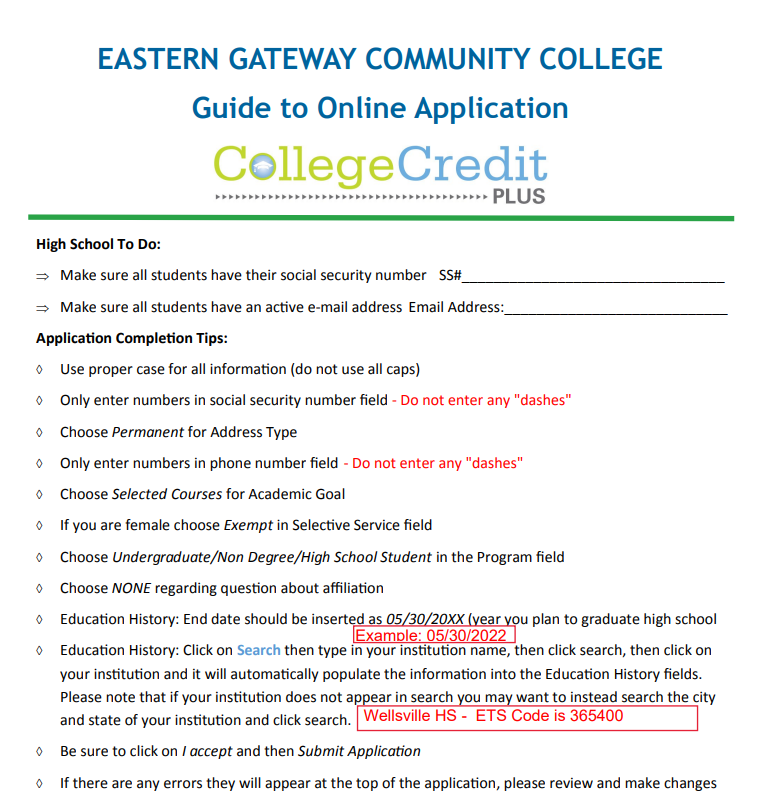 If you have any other College/University options, please see Miss Allison.
Students and Parents, please watch the informational video below for details about College Credit Plus for Kent State University.
CCP 2020-2021 Informational Video
---
Do you need to sign up for the ACT? Please click on the link ACT Sign-up
Ohio Means Jobs has a free online ACT practice test-prep. Please click on the link to access: ACT Ohio Means Jobs Practice
If you are a junior or senior, and you qualify for free and reduced lunch, you can take the ACT two times for free. Please see me for details.
ACT Test Dates 2019-2020
| ACT Test Date | Registration Deadline | Late Registration Deadline |
| --- | --- | --- |
| Sept 14, 2019 | Aug 16, 2019 | Sept 1, 2019 |
| Oct 26, 2019 | Sept 27, 2019 | Oct 13, 2019 |
| Dec 14, 2019 | Nov 8, 2019 | Nov 25, 2019 |
| Feb 8, 2020 | Jan 10, 2020 | Jan 17, 2020 |
---
#HELP HOTLINE
If you are in an emergency situation and you are in need of crisis intervention, contact the Help Hotline Crisis Center.The Help Hotline is available 24 hours a day, 7 days per week. The number is 330-424-7767 or 1-800-427-3606.
Another website that offers help is: https://saferschools.ohio.gov/content/newsletter_winter_2016#ohio-suicide-prevention